Supplier Diversity
Overview and Benefits
We believe our company and communities benefit when we provide equal opportunities for diverse suppliers to compete for new and current business opportunities. By including qualified diverse suppliers in the purchasing process to provide products and services that meet our requirements, we will strengthen the business position of our suppliers, customers, and ourselves. We recognizes the strategic value of supplier diversity initiatives, and strives to have a sustainable program.
Supplier Diversity program benefits include:
Increased opportunities to buy locally, regionally, or nationally to ensure a source of supply
Quality products, services, and solutions resulting from competition for PPG's business
Competitive edge when seeking government Procurement opportunities that require firms to make every effort to use diverse suppliers
Personalized and flexible service
Enhanced product loyalty among diverse customers
Ability for PPG to play a part in diverse supplier business growth and success
Drive economical and social benefits with targeted businesses and/or local communities
Enhanced community relations and positive publicity based on supplier diversity commitment
Scope
The Supplier Diversity program applies to the USCA region of PPG – primarily the United States. Additionally, the program is primarily used and supported by the Automotive and Aerospace businesses.
We follow the definition of diverse businesses as laid out by the certifying bodies and those recognized by our government. Accordingly, these companies are U.S. owned and privately held, and are a minimum of 51% owned and operated by an individual or individuals that fall into one or more of the below categories:
Woman Owned Business Enterprise (WBE)
Minority Business Enterprise (MBE)
Veteran Owned Business (VET)
Small Disadvantaged Business Enterprise (SBE)
Lesbian, Gay, Bisexual, Transgender (LGBTQ)
Historically Under-utilized Business Zone (HUBZone)
Small Business Association / Economically/Socially Disadvantaged (8a)
Disadvantaged Business Enterprise (DBE)
Woman-Owned Small Business (WOSB)
Economically Disadvantaged Woman-Owned (ED-WOSB)
Service Disabled Veteran (SDVET)
AbilityOne Program
Alaska Native Corporation (ANC)
Self-Certified Small Disadvantaged Business (SC-SDB)
*Not all categories may be listed. Additionally, our Aerospace business and business units involved in government subcontracting may recognize different definitions accepted in their respective industries.
A diverse business is classified and certified as such by entities such as, but not limited to:
Women's Business Enterprise National Council (WBENC)
National Minority Supplier Diversity Council (NMSDC)
National LGBT Chamber of Commerce (NGLCC)
Canadian Aboriginal and Minority Supplier Council (CAMSC)
National Women Business Owners Corporation (NWBOC)
Small Business Administration
U.S. Department of Veterans Affairs Vets First Verification Program
Customer requirements will dictate acceptable certifying agency(ies).
Roles and Responsibilities
The program roles and responsibilities span internal functions and well as our external customers and stakeholders.
Business and Customers

Provide requirements, expectations, and reporting to help meet established targets and objectives
Work collaboratively with Procurement to drive program growth
Procurement Center of Excellence

Assist in identifying tools, suppliers, and best practices through available applications, council memberships, benchmarking, and networking events for category managers and businesses to review
Program governance, including, but not limited to:

Facilitate internal reporting and KPI progress (e.g. diverse spend as a percent of total spend) on a monthly cadence
Monitor program progress and assist in external reporting (e.g. diverse spend as a percent of sales) as determined by customer requirements
Procurement Category Management

Include diverse suppliers in sourcing strategies and projects, and drive volume to qualified diverse suppliers (where possible) through the use of market information, references, tools, and other reports
Obtain approval on the de-sourcing of diverse suppliers, and/or explain why potential diverse suppliers were not qualified or awarded business
Goals and Success Factors
The program foundation is based on four pillars, where the ultimate goal is to increase the volume of spend going to qualified diverse suppliers. These actions are in alignment with our corporate strategies of maintaining and growing revenue, improving customer relationships by helping to meet and exceed their metrics, and to be best in class.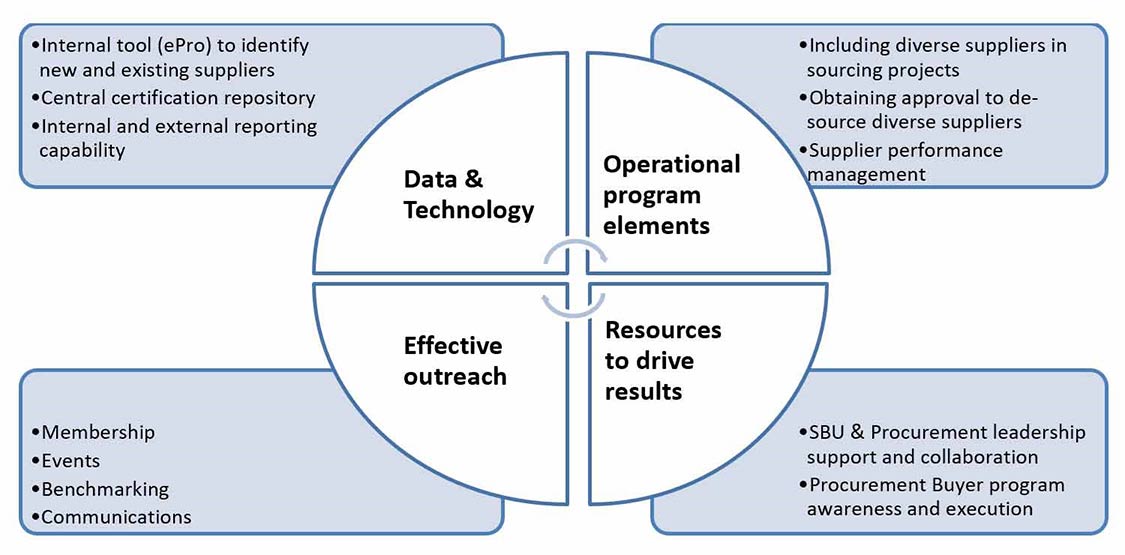 Additional References